Streaming music on your phone has  become the norm. Especially now since there are a lot of options available in the market which provide you quality music content. Nowadays, music streaming apps not only provide songs and soundtracks but also podcasts and audiobooks. If you are confused about which of these apps are the best for you, then here is our list for the top 5 music streaming apps:
1. Apple Music ($9.99-$14.99 per month):
Most of the people don't know that Apple Music is available on the Google Play store. It was released in 2015 and quickly became one of the best music provider app. Now, it has over 30 million songs, soundtracks and many more. It has many quality songs of iconic artists including Eminem and Ed Sheeran. There are multiple plans available for Apple Music including a family pack that supports six members. Other plans include the student plan which gives fifty percent waver to students. The plan starts with $4.99 per month to $14.99 per month.
2. Google Play Music (Free / $9.99-$14.99 per month):
For Android users, Google Play Music is one of the best apps to listen to or manage music. It also lets you upload your own music. Other than this it has playlists, Music stations, and Youtube Premium. YouTube premium allows you to watch YouTube ad-free with background listening. All of this feature makes Google Play Music very valued music streaming apps.
3. SoundCloud ( Free / $9.99 per month):
This app is somehow the most different app on this list. Most of the music is uploaded by the original creators. This is like a YouTube of Music. It has tons of music. The total number of songs is over 150 million which makes it the biggest music streaming app. All of these songs are available for $9.99 per month. There are some additional features like playlists and music stations.
4. Spotify (Free / $9.99-$14.99 per month):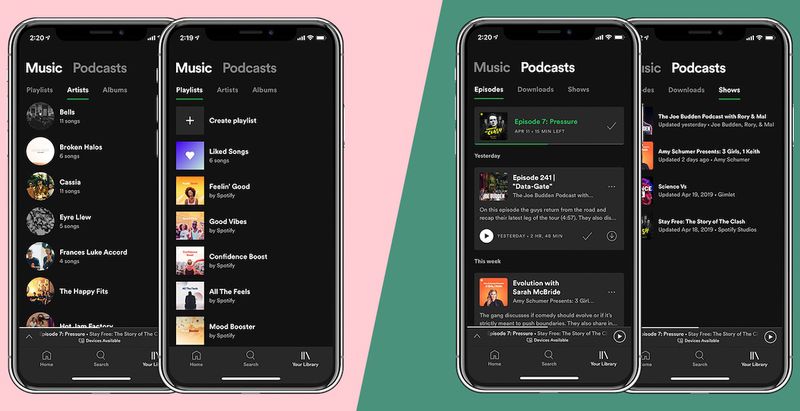 Spotify is one of the most popular music streaming apps in the world. The app is powered by millions of songs and has features like playlists, podcasts, curated radio stations. It also provides some video content also. This makes Spotify the biggest competitor of YouTube Red and Google Play Music as they also provide similar features. Even though there is a paid subscription plan, the free version is better as it provides the best features for free.
5. Amazon Prime Music ($9.92-$12.42):
Amazon Prime Music bundles with Amazon Prime subscription plan so for some of the people it's like a freebie. The Amazon Prime Music may not be the best option to listen to music on but its connectivity with Alexa and Prime video makes it very useful. Amazon Prime Music also provides millions of songs with playlist and many more.