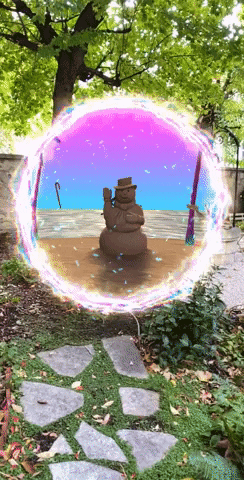 Snapchat always keeps adding new filters and lenses based on their partnership with different types of companies and brands. They have now added a new lens portal that will take you to a beach filled with Gucci bags and accessories. Its basically a 3D world where you will be able to interact with all the stuff that you see on your screen.
Once you click on this portal inside Snapchat, you will taken to a completely different psychedelic world which looks like a virtual destination. Gucci says that this lens is a part of its Gift Giving campaign, the video for which was launched a few days ago on YouTube. The Lens works on a similar theme based on the name of campaign with all the holiday themed AR elements. You can also see a huge Christmas tree with gifts smack dab in the middle of the beach, palm trees raining candy canes and a snowman made of sand.
If you don't know how to view this lens on Snapchat, you can either find it in the Lens carousel or simply scan the Gucci Snapcode. This Augmented Reality Lens will take you to a tropical island filled with the goodness of Gucci products. The Gift Giving campaign has been photographed and directed by screenwriter Harmony Korine who is well known for Gummo, Spring Breakers and Kids.
This Portal Lens can be used with the rear facing camera as well the front facing camera on Snapchat where you can experience many different effects like depth perception being one of them.