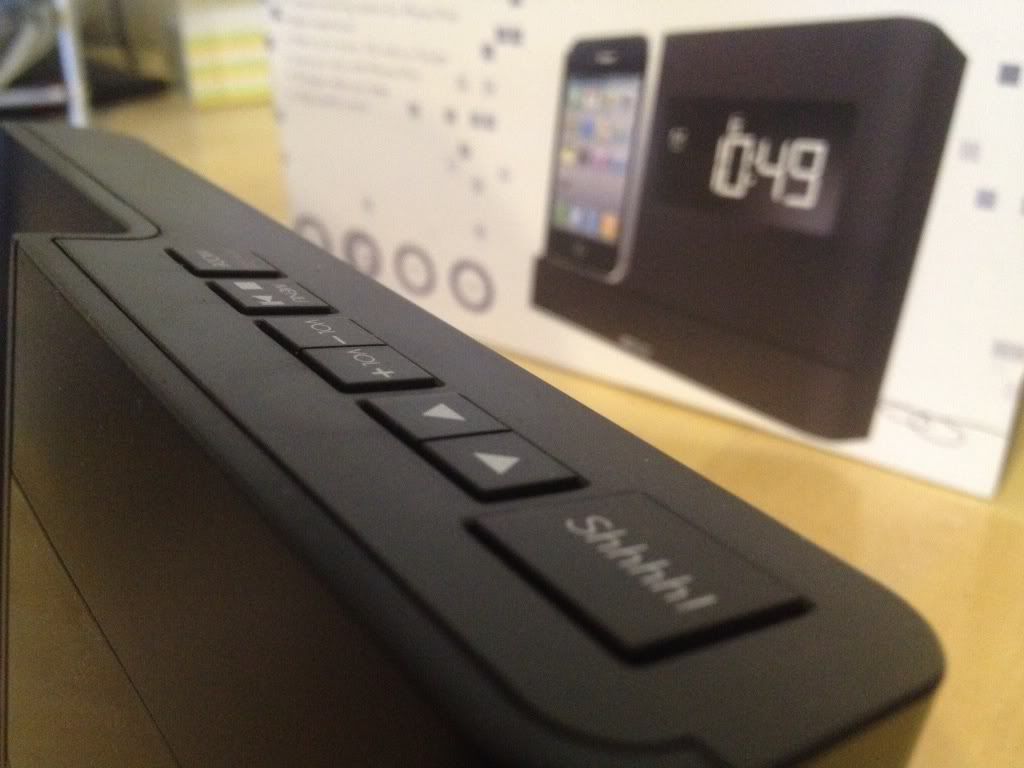 If you're one of those people who requires an alarm to wake up in the morning, KitSound have you completely covered with their XDock. This sleek and compact product will more than compliment your nightstand, due to its aesthetically perfect and integral design. With the inclusion of a dock for your iPhone or iPod you will be able to set your XDock to wake you up in the morning with one of your favorite, or not so favorite songs, whilst giving your phone a full charge. In addition to this you can use this docking station to play your tunes for leisure, both from mains and battery power (batteries are not included). An FM radio transmitter is also included within this docking station, which you can also be woken up to in the morning.
Due to this device's small and compact size, you're more than likely going to be taking this around with you when going on vacation or simply just into the park for increased sound quality. Therefore you are going to want to switch it off when it's not in use, however upon powering the device on, you will be burdened to the fact that it has reset the time. KitSound have recognized this fault with their device and decided to integrate an excellent feature of which the docking station pulls the time from your iDevice and sets it accordingly. This feature is upon one of many useful features the XDock supports.
Operation of this device consists of the user navigating around the 2.5" wide monochromatic display. Upon use, this display will give you all of the information you'll need to know, without creating a busy atmosphere. We like the variable brightness of this screen, due to the fact that whilst charging the device's screen can be dimmed at night. Despite this we were highly disappointed with the way in which you are to navigate around this device to set alarms and change sources. The hardware buttons, which feel significantly cheap allow for a bad experience when altering volume settings and pressing the snooze button. Moreover buttons are doubled up for the feature of setting alarms which makes for a cumbersome experience when setting your device up. The iPhone 5 is not supported by this. You will have to use an adapter.
From first glance the XDock is nothing but aesthetically beautiful. The materials used within the outer shell of this device appear to be high quality, soft touch plastics. The overall look and design of this device is simplistic, slim and to the point. The manufacturer has clearly thought about all of the necessary things that are required for a docking station alarm clock and then added some extra features. When situated on the XDock your iPhone will look totally integrated to the design of the hardware itself. Here you can definitely see that the manufacture has put a lot of development into the integral design aspects of their product.
The packaging (pictured left) carries through this abundance of simplicity. The manufacturer has decided to include things of which will be necessary to the use of this device: a DC power adapter, users manual and the device itself. This allows for less initial out of the box problems, which improves the user experience considerably. Additional to this we've noticed that all of the materials used within the packaging are recyclable – which adds to the environmental responsibility of this device. This type of attention to detail is key to a products success and we feel that KitSound have exceeded in this area.
Prior to listening, the radio antenna didn't give us a positive impression due to the exposed wire – which looks ugly wherever you have to hide it. Despite this when using the radio transmitter we were highly impressed by the quality and capabilities of this antenna. All local radio stations ran very smoothly without any distortion or crackling. By contrast we weren't as impressed by the sound quality in which is portrayed by this device. Low frequencies lack bass and the treble isn't promising either. Higher and mid range frequencies are somewhat of an improvement, however it's definitely nothing to get immediately excited about. Many other (more expensive) iPhone docking stations are more focused on sound quality.
Overall KitSound's XDock is an impressive and capable device packed into a very small package at a substantially low retail price ($49.99). Some impressive features are included within the design of this device, which is very integral. However not every aspect of this device is perfect. Poor sound quality and a cumbersome user interface creates some significant but not deal breaking set backs.
You can get the device from here for $49.99.
If you need iPhone 5 accessories, you can take a look at this page.

TheAppleGoogle Rating: 9/10