The iPad has revolutionized not one but several markets. One of the markets that the tablet from Apple has completely transformed is the magazine industry which includes publishing of articles in a magazine like format. Many magazine publishers have already released iPad versions of their offering, but for those who like something more updated and recent, the below five amazing iPad Apps will present your daily news to you in a magazine like manner.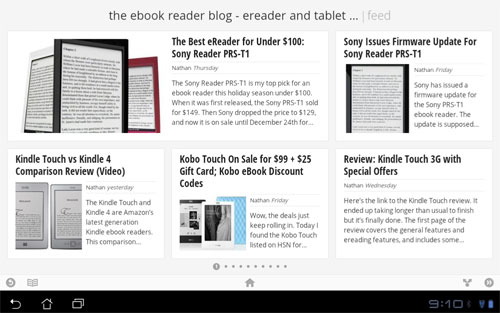 Google Currents
Google Currents is a great cross platform news reading app with a massive database of sources. Google Currents shows magazine like editions on your iPad, iPhone, Android smartphone or Android tablet. The application also allows for offline reading and makes sharing articles a breeze. Google Currents is free on the App Store.
Pros:
Beautiful Design
Loads of Sources
Easy to use
Cons:
Google account required
Not availible in the U.K at the time of writing of this article.
Flipboard
Flipboard is a georgeous news reader for iPad and iPhone. It organizes your news feed and presents them in an amazing user interface. You can flick through a chosen source as if it were a magazine. The application runs super smooth across all devices. You can also add social feeds like Twitter and Facebook to your stream. Flipboard is a free download from the App Store
Pros:
Awesome Design
Sources of news layed out beautifully. Flipping is fun.
Can be customized
Cons:
None in particular


FLUD News
FLUD is an amazing news app, probably my personal favorite out of the five listed in this post. It shows feeds in a 2D cover flow fashion. The best thing about FLUD is that you can add webpages to the feed. FLUD also includes a reading list for read later moments, all while being incredibly easy on the eye. FLUD is a free universal app.
Pros:
Beautiful GUI
Add web pages
Reading list
Cons:
Social services only availible with an account.


Pulse News
Pulse is another beautiful reading application, the layout of streams is simply amazing. The design is very minimal, while still providing great features and functionality. Pulse is availible on both iPhone and iPad, and does a great job serving you news on both of these devices, all for free.
Pros:
Awesome layout
Easy to add new feeds
Cons:
The add source bar can be annoying
It is very hard to integrate Google Reader with the App
Crashes Often

CNN App for iPad
For reading and watching CNN, there is no better application. CNN have compiled a great application for thier own channel. You can save stories for offline reading. You can watch videos on articles or even watch CNN live. The App also does a great job in presenting your news in a great way. Downloadable from the App Store for free.
Pros:
Watch CNN live
Watch videos relating to articles
Great design
Cons:
A lot of people have been reporting problems with stability
Need cable TV for live TV
Which is your favorite App? Let us know in the comments section below.