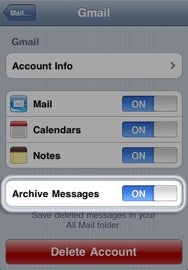 Most of you who use Gmail in iOS 4 would have noticed that whenever you delete a mail from your Gmail account in iOS 4, the message says Archive and not Delete. Archiving is a feature used by Gmail. Whenever you delete a mail from your Gmail account, it archives it – sends it to your All Mail folder instead of deleting it which makes your inbox less cluttered and the archived mail remains in your mail for six years.
Apple brought in a lot of new features and improvements to mail in iOS 4 and one of them is archiving. For any reason if you'd like to stop archiving your mails and want to send them right into your trash folder, here's how to do it.
1. Go to Settings in iOS 4.
2. Tap on Mail, Contacts and Calendar.
3. Tap on the desired account.
4. Below Sync, you'll find "Archive Messages".
5. Switch archiving off and you'll be done.