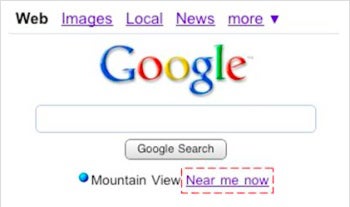 Google's latest location-based feature for mobile devices, which went live recently, will make it easier to find restaurants, bars, ATMs and more when you're in an unfamiliar area. The feature, called "Near Me Now," is available on the Google homepage on your iPhone (OS 3.0 or later) and Android (OS 2.0.1 or later) devices. Near Me Now is currently available only for United States users, and was first announced in December, alongside other new mobile search features including Google Goggles.
Say you're standing outside a restaurant and want to quickly look up information about it before committing to it. You could google it by name (and do all that tedious typing), or you could just hit the new "Near me now" link.
watch?v=ETbTqjjzDLg&feature=player_embedded
"Near me now" uses your location aware cellphone (currently only iPhone and Android devices) to search for surrounding businesses by category (restaurants, coffee shops, bars, ATMs and banks, and more), then returns any nearby matches based on their proximity to you. So if you're standing outside or near a restaurant you're considering, all it takes is firing up Google, tapping the "Near me now" link, and then choosing the category. It really is considerably faster than typing (especially on mobile devices), and might be worth working into your mobile searching toolkit.