Consider a situation where your Windows PC has crashed. You had not created a backup of your data which included your iTunes Library and are now worried about losing all your favorites. You later fix your PC and want all your songs back.Now all yours songs were on your iPod and you need to transfer it from your iPod back to the PC. iTunes does not allow such transfers.
Let us explore another problem which is similar to the one above. Say, your friend has a movie on his iPod which you too want but his iPod is synced with another computer. You just can't copy and paste the movie due to the restrictions imposed by iTunes.
Well, now you have the solution.
In such cases Xilisoft iPod Rip comes in handy. There are tons of videos on YouTube and millions of How To on this niche and none of them seem to work but this one does. This allows you to transfer files, songs, videos from your PC to your iPod and the other way round without using iTunes. You could even backup your iPod files and restore them if an incident like the ones described above have been encountered. The software supports all kinds of iPods, from nanos to touches. It even works with your iPhone and is compatible with both PC and Mac. It is compatible with iTunes 9.0.3 (latest) and works like a charm. Xilisoft is a trustworthy company which makes loads of other software and freeware including iPod Rip which is magical. With this your iPhone or iPod could work as a hard drive and it even has an inbuilt player to play your songs on the go.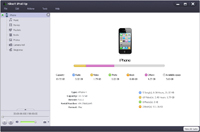 As soon as you plug in your iPod , Xilisoft detects it, it displays all the details about the iPod just like the way iTunes does.Next,you've got three options on the bottom to choose from- Copy files to iPod, Transfer files from iPod to PC/Mac or transfer files from iPod and iPhone to iTunes for backup. The UI isn't that complicated and is comfortable even for beginners. The file is 5.80 MB and if you like it you could have it for $25.95 .
Go ahead, and give it a try!
Website – http://www.xilisoft.com/ipod-rip.html
Features – 9/10
Performance – 9/10
Value for Money – 7/10.
More and more "how to's" to follow only on http://theapplegoogle.com.