You must have played all kinds of puzzles games but have you played one which brings calmness and peace along with it? Little White Rocket by a game developer based in Netherlands is a high quality touch game which takes you through a mysterious world where you can can play through a variety of puzzles. You will love the gameplay experience which will calm you down at the same time.
Content and Features: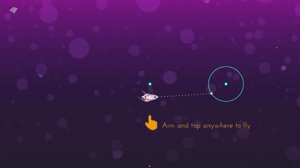 Its like any other puzzle game in terms of functionality but it differs in the gameplay as it is created around a very relaxing atmospheric music where you will never feel any kind of stress. As you move forward in the game, you will come across new types of puzzles which you can solve with total calmness. The storyline is written by an award-winning poet and the experience is enhanced by the narration and visualization in the game. Also, you wont be bothered by any advertisements or other interruptions.
Display and Appearance:
Since the game revolves around a calming and meditative experience, you will see the background themes which are aligned in that respect giving the game a very realistic feel. It also has really nice soothing dark visuals that would be perfect as you are winding up towards the end of the day.
Final Verdict – The narrated poems feels great and it will definitely bring some calmness if that is what you are searching for in a game. The music is also captivating and they have done a great job with that. Although its not a free App, its one of the finest touch games that we have come across. We rate it 10/10.
You can download the game from the App Store for $1.99.