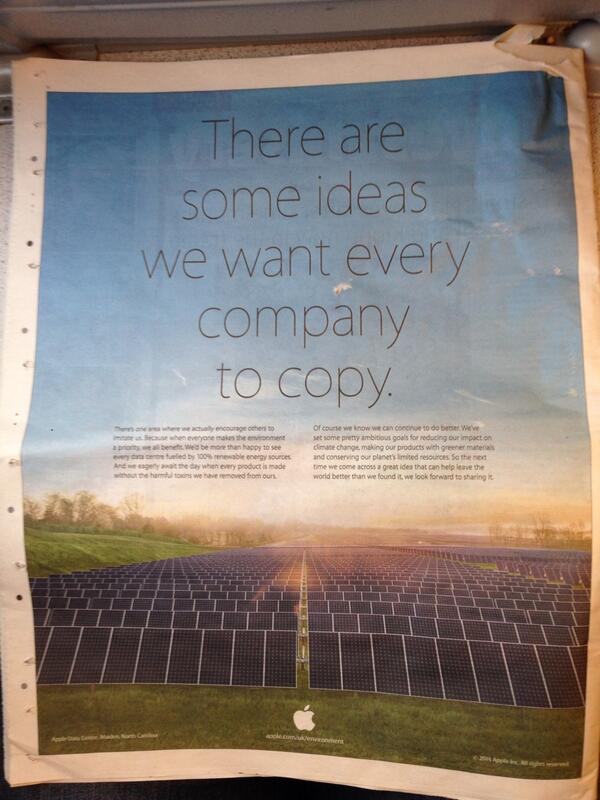 Apple has taken out print advertisements in newspapers around the world today to mark Earth day. This is a part of Apple's recent environmental campaign, which has launched some environment friendly initiatives. Apple in June last year hired Lisa Jackson, former head of the Environmental Protection Agency to oversee environmental issues. Apple will be honoring Earth Day by covering the Apple logos with green in its retail stores across the world. Apple Store employees also wore green T-Shirts.
The print ad is slightly whimsical as it reads, 'There are some things we want every company to copy' which somewhat seems to target Samsung.
Here's the full ad copy:
There's one area where we actually encourage others to imitate us. Because when everyone makes the environment a priority, we all benefits. We'd be more than happy to see every data centre fuelled by 100% renewable energy sources. And we eagerly await the day when every product is made without the harmful toxins we have removed from ours.

Of course we know we can continue to do better. We've set some pretty ambitious goals for reducing our impact on climate change, making our products with greener materials and conserving our planet's limited resources. So the next time we come across a great idea that can help leave the world better than we found it, we look forward to sharing.
With regard to the environmental campaign, Apple has also released a new video advert having Tim Cook's narration and also a complete webpage dedicated to this issue.