The ability to book flights right from your mobile device is becoming progressively popular these days. For those who are perhaps just looking for a short break, or even looking for the next flight available for that important meeting– there are many Apps available to suit your needs.
Expedia FREE
Expedia is undoubtedly the most well known application we are overviewing in this 'Top 5' – this means that the company has strong foundations onto which they can develop a fantastic application to offer their services further than through browser. With Expedia's application you can: book flights, make hotel reservations and read reviews regarding the opinions of others about the particular amenity you are viewing. The developers of this application have clearly pointed their focus into the direction of making the application intuitive, and very easy to use – especially if you're in a hurry. With a full set of search criteria points for you to fill out, this application will ensure you are on your way as quickly and as efficiently as possible.
Kayak FREE
Kayak is one of the most comprehensive applications in this 'Top 5' and it remains relatively simplistic and easy to use. There are a plethora of features which make this application your ideal travel companion for your mobile device. Some of these include: hotel reservations, flights, car rentals, price alerts, flight tracker, airport information, packing list and a currency converter. We were also impressed to notice the implementation of some of the features of iOS, like current location services, to enhance the experience the user has when making travel arrangements. Moreover you will be pleased to know that they have developed a fantastic interface for booking flights – as it provides a familiar and instinctive layout upon which the user will be able to access and locate everything they need to search and book flights with ease.
Kayak has been purchased by Priceline.com for $1.8 billion.
Orbitz FREE
One of the most aesthetically focused applications in this 'Top 5' is Orbitz. Orbitz contains all of the necessary features required for booking flights and making hotel reservations, along with an aesthetically beautiful UI, which complies with the theme of vacation and travel. Some of the features offered in this application are: flights, hotel reservations and car rentals. Orbitz provides users with a fantastic way to search through and book flights. When entering the criteria for your potential flight, the developer has made it very simple for you to pick an outward and return date, along with the amount of passengers you intend to book for and the class, which you intend on travelling in – all of this is displayed in a window designed for anyone to understand and appreciate. With a decent amount of features and an outstanding UI, this application is undoubtedly one of the best ways you can book flights on your iPhone, iPod touch or iPad.
Priceline FREE
While some of you may not have heard of the bargain-based hotel, flight and car rental booking site, Priceline – you'll be pleased to know that they have developed an almost flawless application for your iOS device, with the intentions of bringing their great deals from your desktop computer to your mobile device. With Priceline's application, you can book hotels, car rentals and flights. The best feature supporting this application though is the flight booking facility. Priceline have put an exceptional amount of effort into making the interface for booking flights like an experience you have used prior to using this application – the aim of this is to make it quicker to grab those fantastic deals offered by this company. Upon tapping the "Flights" button you will be presented with this familiar interface, however it cleverly detects your nearest airport and automatically populates the departure airport section, to save time.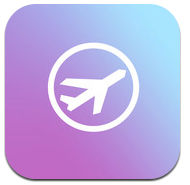 iFares FREE
Another good App for booking flights, but the UI isn't attractive enough. This is a very basic application, but does the job. It isn't as attractive as the rest of the Apps and does not include hotels or car rental booking.