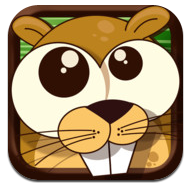 Oh my Nuts, a squirrel inspired application from Gara Entertainments provides you with hours of 'Angry Birds' like fun. This $0.99 App is very reminiscent of the way that Angry Birds works, so we guess that many of you would be familiar with the gameplay and would have already fallen in love with it. Your objective it to launch the squirrel and collect coins to gain benefits.
Pros:
We really like the way in which the user interface is designed to make you feel as if you are sub consciously within the surrounding's presented scene. For example on the home screen of the App, you have to press a button which is embedded into an acorn tree. Even from this premature moment you feel as if this Application has been thought out properly and contains some really awesome features.
Upon first launch you will receive a decent set of basic instructions to get you going with the App, in addition to this you will receive more info on how to operate the game during actual use when you enter the first level for the first time. While many other Apps in this category sport help websites and forums, Gara Entertainments have gone one step further by putting basic, yet informative, instructions within the App. This stands out to us as being well thought out considering many other developers choose not to do so. Furthermore, we think that a bargain is being given with the extremely low price tag, considering the fact you receive such good reliable features like the ones above.
Housed within this application are some very interesting and fun sound effects that we think will add to the appeal of it. Unlike some other similar Apps in this ones category the sound effects used here are presented to you in a subtle appropriate way. And by appropriate we mean if something for example, dramatic happened, you would be able to distinguish it from the normal due to the sound effects being used as and when necessary.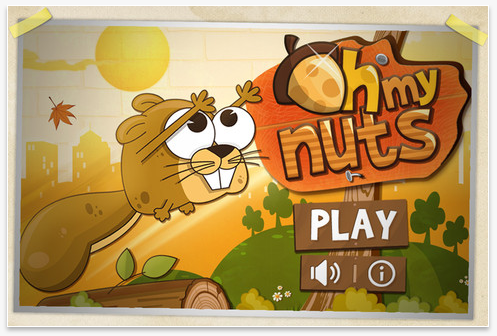 Cons:
While we feel that the touch and drag gameplay works very well, we also feel that the developer could have introduced a new feature that would make it somewhat exclusive over other Applications in this category. Reasons behind this point are: people could gain the same experience on the more favored App, Angry Birds. Linking to this we feel that many of the controls could be related to Angry Birds in too many ways.
Despite the fact that we find the loading screens very appealing, we have noticed (even on the fastest of iOS devices) this App has been taking its time to go from screen to screen and we find that all important loading screen being used rather frequently, which could be improved.
Overall, the game is really intriguing and very well designed. You can get it from the App Store for just $0.99.
TheAppleGoogle Rating – 9/10