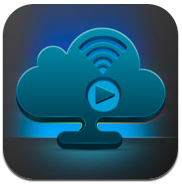 There aren't many Apps out there that allow you to access media from your computer or hard drive, especially on Apple's App Store. So the developers at Digiatry Software have developed an App that can do all of these things, right from your mobile device of choice.
Air Playit is designed to wirelessly stream video and audio to your iOS or Android device. The problems of compatibility are ironed out during the use of this app as you have the ability to stream up to 320 different formats of audio and video from your NAS (Network Attached Storage) device, computer or professional server right to the screen of your mobile phone or tablet. You can do all of this at not additional cost, due to the fact that this App is free from both the App Store and Google Play (Android Market).
Why would you need such App? Well this App's main function is streaming, therefore it requires an internet connection. This Application will directly connect to your computer, NAS drive or server to push video and audio content to your mobile device without it taking up precious storage. iPad, iPhone and android versions of this Application are currently available
Pros:
We believe that apps in this category are designed to serve a function, and we think that Airplayit does just that. Upon first glance you can really notice that they haven't spent huge amounts of time on the design of the App, they've spend most of the time developing it so that its intuitive and does a good job at what it should be doing. They should be commended for this.
It is certainly apparent that the developers of Airplayit have put great amounts of effort into making this App cross platform. You can use this Application on your browser, iOS device and your Android device. Furthermore we know that the developers have the incentive to develop for an even wider eco system over time.
Due to the fact that this App uses streaming to push the content to your mobile device, it doesn't take up storage that you need for more important documents and other items that may be of need, however this does mean however that you cannot watch or listen to such content when you are not connected to the internet.
Cons: 
We mentioned earlier in this review that we liked the fact that they were economical with their workflow by focusing on how the App operates rather than the design. However in some areas we feel that this shows through, due to the fact that the App sometimes crashes and doesn't always function upon input request. However we don't think that this is a major downfall for the App as it can be easily fixed and ironed out over the period of updates.
While we are on the subject of updates, we feel that the developers appear to have forgotten about the fact that its good to update the App and maintain a good amount of testing even when the App is complete, to prevent bugs like the ones mentioned above. Furthermore we think that the developers should take action on this and start to develop their already good piece of software to make it that little bit more tight during use. We are aware that this application is open source however we know that Apple's App Store is not open source, so therefore it should require some work during the course of its time submitted.
Overall, this App is a must have if you have different content on different devices.
TheAppleGoogle Rating – 8/10
You can get AirPlayIt from here.