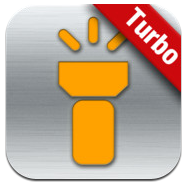 One of the major features added when the iPhone 4 was introduced was the LED flash which was designed by Apple to work only in the camera Application that is stock with every iPhone. Developers globally discovered this as a major window for development of a new app that people could use as a torch on their new iPhone. Some of the first applications built for this very function were 'iTorch 4' and 'Torch for iPhone'. Both of which are still quite popular within Apple's App Store eco system. 1 Click Flash is new on the App Store, and its definitely putting up a somewhat decent fight to compete against the other Apps in this category, and because of this 1 Click Flashlight has already received over 400,000 downloads.
This Application was designed and developed by MyClickapps.com (LLC) to provide both iPhone 4 and 4S users the use of a flashlight, via the LED flash, on their phones. Due to the fact that Apple don't offer such facility in house. Furthermore, there are some interesting facts that we have received from the developer, such as that it was reported by consumers that it was used during the horrific tsunami in Japan last year. Pretty helpful.

Pros:
Its easy to see that the developers have done a lot in the way of professional development to ensure that their App provides a better experience for the user, we like this. Some examples and evidence is directly noticed upon usage of their recently famous Application: There is the ability to dim the screen of your iPhone while this App is running to allow you to maximize your battery life during use. Also another example of professional development within this Application is: that you can monitor your battery while the App is open, and you may be surprised, but the majority of the mainstream flashlight Apps don't even entertain this feature.
In addition to this, the App will automatically cut out when you reach 10% battery, which is a good feature, however we can defiantly see some immediate downfalls. (which will be listed below).
Cons:
While the user interface of this Application serves a good function and it does what its supposed to do, we have found that upon normal usage the App doesn't appear as responsive as it perhaps could be and as others are in its category. We think that this could be due to bad code production, or perhaps 'holes' that appear in the code. Moreover we feel that it could be due to the fact that there is a large usage of adverts on the majority of screens that are shown during usage.
Verdict: 
1 Click Flashlight is a functional, advanced application that is a real contender in its class. We think that this application will win over peoples downloads due to the fact that its free of charge, even with all of the features that it sports. On the flip side, there are very few but major downfalls that you are likely to experience upon usage. However we feel that the developers will take note of this and update the App as they have been regularly, so therefore we dont think that this should sway your decision to download this application.
TheAppleGoogle Rating: 7/10
Download 1 Click Flashlight here.
Learn more about 1 Click Flashlight.