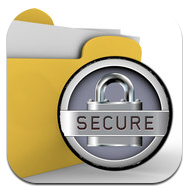 iSafe n Secure is an App for your iOS device that allows you to store your important data in one place on your device securely so you can access them whenever and wherever you want them.
Pros:
The interface is really simple and clean. Users will get the hang of it instantly. It almost feels natural. In addition to this, the will sync your data to all of the devices that you have the App installed on – if you choose.
There is a wide range of security credential categories that are pre-installed into this App, to provide you with ease of use when entering your data. However, if your preferred category isn't listed within this application then you can add your own and customize it to your liking.
Another thing that is absolutely essential and is a part of this App is password protection. However if you set a password on your iPhone, it may not appear to be on your iPad or other iOS device, so it might be worth to keep that in mind when securing your data.
Something more interesting is the fact that you have the ability to attach documents that are related to the security credentials into the App. Some file formats that can be used are .doc and PDF. We have found this very useful for keeping documents safe on your phone or tablet if needed. If you do decide to password protect this App, you will find that you have the ability to set up a hint that will help you remember the password in case you forget it.
Cons:
There are very few cons that we encountered with this App, but we still thought they were worth mentioning as they may effect your day to day use with this application.
We did say that this App appeared simple, however in some parts the App looks plain and appears as if there is something missing. Nothing much missing in the expected features lists, but when it comes to design, the App looks rather too clean and the color scheme is not consistent.
Verdict:
There is no doubt that the developers at House of File have done a good job at creating a safe customizable security App that is very compatible. And at $0.99 it is a very reasonable, respectable price for the function that it serves. The developer could do with spending some more time making this App look pretty and functional at the same time, but we feel that this can be easily fixed in a software update so therefore it shouldn't stop anyone from making a purchase. Finally the developer appears to be updating the application fairly regularly, so if there are any issues that you have found like the ones above then they will probably be addressed in the near future.
Download iSafe N Secure here.