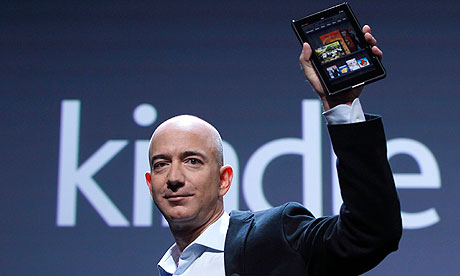 Amazon has finally unveiled its long anticipated tablet, the Kindle Fire, which may challenge the Apple iPad in the tablet market.
Amazon showed off the tablet with a 7 inch screen on Wednesday, in New York. The Kindle Fire sports a colored 7 inch touch screen display and runs on a totally redesigned version of Google's Android. Amazon is also using its web-based experience to make browsing the web extremely smooth and fast with its new tablet. In-fact, the techniques that Amazon is using could make webpages load faster on the Kindle Fire than the iPad 2 with A5. Amazon Silk the browser that powers the tablet learns users behaviors and starts caching often visited pages for quicker load times. It offloads content to Amazon's Elastic Compute Cloud (Amazon EC2) that shrinks it to a more efficient size. The iPad however, has a larger screen of 9.7 inches, which has its own advantages.
The Kindle fire, runs Google's Android OS, and it will sell for $199, which is less than half the price of the cheapest iPad, which sells at $499. However, it has been deprived of the two most essential features that most tablets in the market are capable of, a Camera and mobile internet, which can impact its sales.
Amazon expects to sell about 3-5 million units of its new tablet. It will also come with a 30 Day membership to Amazon prime, which gives users access to many great Amazon services for free.


The Kindle Fire will be available only in the US and will be available to buy starting from 21st November.
Along with this new colored screen device, Amazon has also released new versions of Kindle that are now touchscreen based, and one that retails at just $99.
The below is the message being displayed on Amazon.com at the moment.
Dear Customers,

There are two types of companies: those that work hard to charge customers more, and those that work hard to charge customers less. Both approaches can work. We are firmly in the second camp.

We are excited to announce four new products: the all-new Kindle for only $79, two new touch Kindles – Kindle Touch and Kindle Touch 3G – for $99 and $149, and a new class of Kindle – Kindle Fire – a beautiful full color Kindle for movies, TV shows, music, books, magazines, apps, games, web browsing and more, for only $199.

These are high-end products – the best Kindles we've ever made. Kindle and Kindle Touch have the most-advanced E Ink display technology available, and the 3G Kindle Touch adds free 3G wireless – no monthly fees and no annual contracts. Kindle Fire brings everything we've been working on at Amazon for 15 years together into a single, fully-integrated experience for customers – instant access to Amazon's massive selection of digital content, a vibrant color IPS touchscreen with extra-wide viewing angle, a 14.6 ounce design that's easy to hold with one hand, a state-of-the-art dual core processor, free storage in the Amazon Cloud, and an ultra-fast mobile browser – Amazon Silk – available exclusively on Kindle Fire.

We are building premium products and offering them at non-premium prices.

Thank you for being a customer,

Jeff Bezos
Founder & CEO
p.s. – Kindle Fire has a radical new web browser called Amazon Silk. When you use Silk – without thinking about it or doing anything explicit – you're calling on the raw computational horsepower of Amazon EC2 to accelerate your web browsing. If you're curious, watch this short video to learn more about how it works.