Unlike the iPhone and iPod touch, the iPad does not come with a native Calculator App. While using such a large screen as the iPad for daily calculation sounds weird, a calculator app can be handy for quick calculations.
In this "Top" series we round up the top five calculator apps for the iPad that would help you carry out some calculations on your large sized touch screen buddy.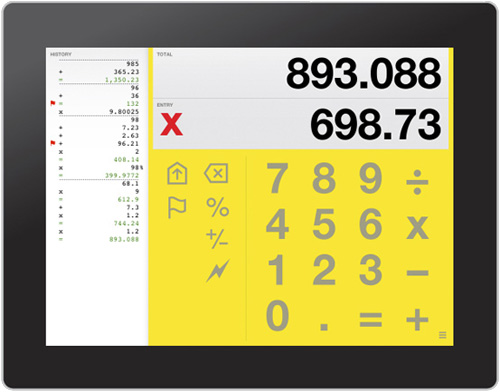 Digits Calculator for iPad – With its easy to use interface, history tape, AirPrint capabilities, high level of customization and amazing speed, Digits Calculator is probably the best calculator App available in the store for the iPad. The App also allows you to carry out large calculations and then export it to Numbers or Excel. Every calculation is carried out in tapes allowing you to easily tap a tape and edit it quickly. For $1.99 you can get both the iPhone and the iPad version.
CalcBot – The Intelligent Calculator – CalcBot has been developer by TapBots and has a terrific user interface. It works great in both landscape and portrait mode and features an amazing history viewer. The live-as-you-type history feature is simply mind boggling. It displays the expression history as you type, so you won't forget what you have entered.
The App is designed for both iPhone and iPad and you can get it for only $0.99. It also supports multitasking and retina display.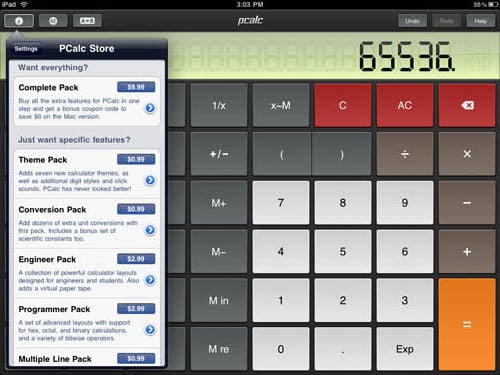 PCalc – A full-featured calculator with RPN, scientific, statistical, and programming modes. This breath-taking calculator from TLA Systems supports both portrait and landscape layouts with different options presented in each. It is highly customizable and allows you to choose from nine different themes. The keys are extremely easy to tap and a flick left would undo your calculation and a flick right would redo your calculation. You can even mail your results and your calculations directly from your iPad. You can even convert currencies easily using this App. The App is heavy-on features and also supports hexadecimal, octal, and binary calculations.
Price – $9.99
Calculator HD – A calculator with an interface that will dazzle you. The App is extremely reliable and has huge keys for easy tapping. It includes four different types of calculators and you can switch to any of them based on your needs. A scientific calculator, basic calculator, tape calculator and an amazing note calculator for hand drawn calculations and notes make the App an all-in-one. With a price tag of only $0.99, it is definitely a steal.
Jumbo – Not for hardcore calculations, but has a good interface. It is really basic and appears similar to a real life small calculator. Available for free in the App Store.