To-do applications are common for any platform, but a to-do application like Diacarta is unheard of. Diacarta for iPhone completely redefines a to-do app with its revolutionary user interface, breath-taking concept and an amazing planner. In an interview with TheAppleGoogle, Jake Yanchar from the Diacarta team shares his views on the road ahead with the iPhone version and the new features.
How did you conceive the idea for the App?
It is a natural progression of how I would plan my day before I had an iPhone. I would take a notebook, open it up and draw a circle on the left page and a circle on the right page, each representing an analog clock – 12 hours in the AM on the left and 12 hours of the PM on the right. When I finally got an iPhone 3 years ago, I started to see that potential to bring that concept to the iPhone.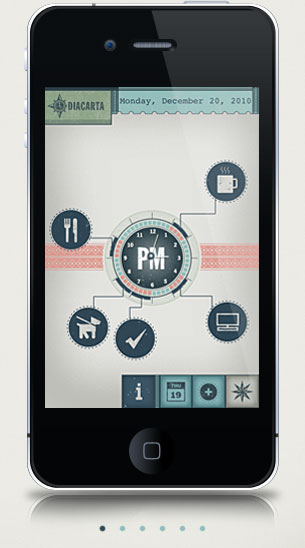 What are your thoughts on the Mac App Store? Do you think it has the potential to become as successful as its iOS counterpart?
We are excited about it, and do believe it has potential. Lots of people have asked for a desktop version of Diacarta, and the Mac App Store is a great way to do that. Again, the distribution network is what is most exciting about both stores. If we created an amazing desktop version of Diacarta, it might go unnoticed if we did not spend marketing dollars, etc., to get it in stores. With the Mac App Store, and its iOS counterpart, distribution and people finding it are removed from the equation of a successful product.
Why did you choose to develop a to-do application?Was it out of frustration or just because you thought it could be a great idea?
I decided to develop Diacarta because none of the calendar/to-do apps were working for me. I am a visual thinker that sees things separate and apart from lines, blocks, boxes, grids, etc. I liked to be able to see a picture of my day, and all of the other apps were based on that same line of thinking…blocks of time in list format. Many of the other calendar apps that also have to-do list functionalities make it too hard to see everything at once. I thought we needed to create something that allows you to not only see scheduled events, but things you wanted to accomplish on any given day.
Can you give us a sneak peek into the future of Diacarta?
We are extremely close to submitting our first major update, (version 1.2) which will include the ability to create recurring events, push notification for alerts, retina display, new icons, a settings page to change the time format display, some new icons and some other additions. Following on this update will be a new version of Diacarta (2.0) that will sync with other existing calendar applications, such as the iPhone native calendar, iCal, Google Cal and perhaps Outlook.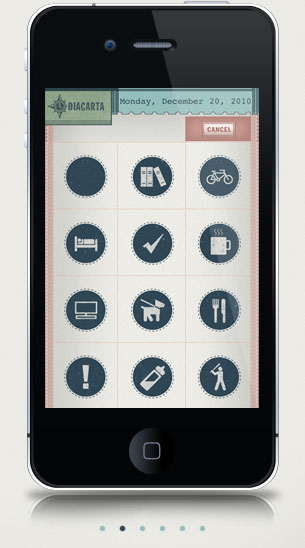 Are the development plans for Diacarta for iPad and Android in the road map?
We absolutely want to bring Diacarta to both platforms. The iPad is a natural candidate, with more real estate on the screen to work with, and we hope to accomplish that beginning early next year. We are also excited about Android as that really seems to be taking off. The problem is, as "indie developers" with day jobs, sometimes you need to prioritize. I wish we had a large team of developers and a large budget to get all of these things going at once, but that is not currently the case.
How long did Apple's approval process take? Were you satisfied by their performance?
We have been very pleased with Apple so far. The first release in June took about a week, and the first update which fixed a few bugs took about 10 days.
What other help from Apple could have made your development process better?
We have had a pretty smooth ride with Apple so far. We spent a lot of time testing and retesting before submitting, and our developers are very good. We have not, therefore, really had much reason for Apple's involvement in the development process.
Diacarta for iPhone [iTunes Link]