Capo for Mac and iOS completely redefines the process of learning music. With its revolutionary interface, mind boggling engineering and extraordinary features, Capo helps you learn how to play your own music from your iTunes library. In an interview with TheAppleGoogle, Mr.Chris Liscio shares with us the idea, his thoughts on the Mac App Store and the development process.
Q: How did you conceive the idea for the App?
I was learning to play guitar, and my teacher would assign songs for me to learn on my own, by ear. I tried out a bunch of similar products on the Mac, including the built-in QuickTime slowing, but they were all really cumbersome to work with.
I then resolved to build the best solution for learning music by ear, and that's how Capo 1.0 was born.
Q: Capo is available for Mac as well as the iPhone. Do you intend to port it to the iPad?
The universal version of Capo is in beta as we speak. 🙂
I hope to submit it to the app store shortly after 4.2 launches for the iPad, as it's a requirement for the iPod library access API.
Q: Apple recently announced their new Mac App Store. Do you think it has the potential to become as successful as its iOS counterpart?
I believe it has a great deal of potential, coming from Apple. The purchase experience would be quick and painless for users, which is what developers ultimately want.
Whether Apple can deliver on the same level as the iOS counterpart is anyone's guess. I'm optimistic about what the future holds for Mac developers.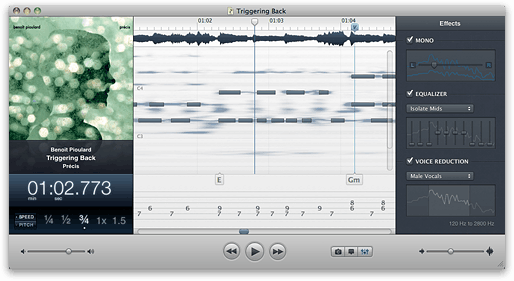 Q: Capo allows users to learn how to play music from their iTunes library and is really good at it. Do you see Garageband as your competitor?
Not at all.
GarageBand is a complement to Capo. Once you learn your music, you can use GarageBand to record yourself playing it, add in some accompaniment, drop some vocal tracks in, etc.
There are many heavyweight applications out there that include the ability to adjust speed and pitch independently from one another, but none of those packages have been built with the specific purpose of helping you learn your music.
Q: What further help from Apple could have made your development process more enjoyable?
I'm not sure how much more Apple could do to help me out during the development process. I feel that if you're working on something interesting, and you seek help from Apple, they're happy to give you a hand.
I've received plenty of help in various venues. Whether it was my time spent in the labs at WWDC, questions asked in public mailing lists, or responses to bug reports, Apple's engineers are very accessible.
Q: Can you describe your eureka moment with your App?
I had my eureka moment when I realized that it was pointless to chase the dream of automatically transcribing music.
Instead, I focused on giving the users richer information, and tools that allow them to find and enter the notes as quickly as possible. I've got a blog post about this here.