There are many Facebook clients that have been surfacing for the iPad on the App Store recently. As Facebook does not have an official App for the iPad and most of the features don't function properly using Safari on iPad, we lay down the top four Apps for iPad that will enrich your experience with the social network.
Friendly.
Friendly was the first Facebook client to hit the App Store for iPad and is currently the top paid App on the App Store. The App allows you to use most of the features of the social networking site including Places, Profile, Chat, Like and Comment.
The UI of the App is sleek and accessible. With a tap you could switch between live feeds and news feeds and even browse events and requests. Friendly takes Facebook Chat to a completely new level and makes chatting with people on Facebook extremely interactive. Viewing photos, commenting on photos, flicking through profiles and managing notifications have been never so fun.
Social.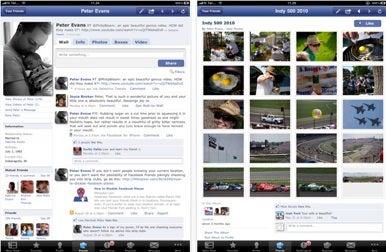 Social is yet another Facebook client for iPad with elegant looks. All Facebook features including Chat, Places, Profile and Friends are placed below as tabs and you can access them anytime by tapping the desired service. Social's user interface is simple yet efficient and using it is a breeze.
Though Social is heavy on features, it acts strangely at times. Logging in to your Facebook account using Facebook connect is buggy and once you log out, logging in again is a pain. The developers are working hard on it and updates to the App are being rolled out.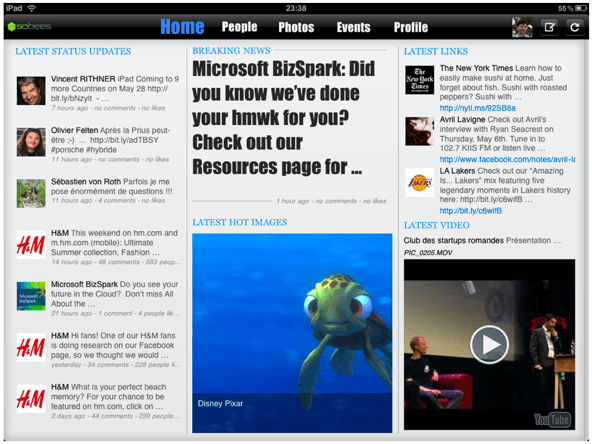 Sobees arranges your Facebook data in a newspaper like manner and has boxes for different things. You have a column for photos, videos, latest status updates, links and more. It is organized as a newspaper where every column is separate and you can flick in any direction to view more updates.
You can also use Facebook Chat and the recently announced Facebook Places feature from Sobee. It is a complete Facebook Client with amazing capabilities.
The newspaper like interface completely redefines browsing Facebook and allows you to stay connected in a better manner. You can also post status updates, like updates and even comment on updates. Unfortunately, you cannot access Facebook pages with Sobees and the current version of the App crashes a bit.
Flipboard isn't a complete Facebook client, but it presents Facebook in a magazine like manner. With it's highly acclaimed user interface, browsing Facebook has never been so fun. You can view posts, links, pictures and open links in the browser. As it is not a fully-featured client, you can't use most of Facebook's features, but it does make Facebook interactive.
What do you use for your Facebook needs? Do let us know in the comments section below.