Top 5 Motorola Droid 2 Cases
We continue our Top 5 Cases section and this time we bring to you the Top 5 Cases for Motorola's Droid 2. The Droid family has tasted utter success and the latest offering, the Droid 2 is breathtaking. The Droid 2 comes with Android 2.2 (Froyo), 5MP Camera with Dual LED, a large 3.7 inch display and a bunch of software included along with the Android Market which is just a tap away.
To protect your gorgeous new phone, here are the Top 5 cases –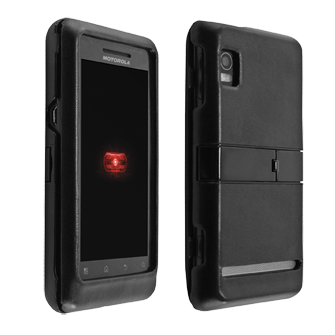 1. Verizon Kickstand Snap On Hard Cover Case – If you've got a lot of movies on your Droid 2 or read just too many things on your phone or even love to watch picture sideshows on the large 3.7 inch screen, this is the case for you. This case adds a kickstand to the Droid 2 that makes the case extremely useful. The case weighs around 34 grams and adds between 5 to 6mm of thickness to the device. Overall, the case is good for protecting your device and the kickstand turns out to be quite helpful.
Price – $25
2. Rubberized White Premium Phone Protector Hard Cover – Amazon – This is a great hard cover case for the Droid 2 and does the best job in protecting your phone. The back is made of rubber and feels really smooth. It even adds an extra grip to your phone and gives your phone an elegant look. The case has cut-outs which is just fine and lets you access the ports of the phone even while the case is on. The case even comes with a screen protector and a small microfiber cloth for cleaning your device.
Price – $7.99
3. Verizon Snap-on Gel Cover – Another case from Verizon that is comfortable and feels smooth. This case is quite simple and protects your Droid 2 from accidental nicks and scratches. It fits the device well and the cutouts are sharp and lets you to access all the ports of the device.
Price – $20
4. Case Mate Barely There Case – The Barely There cases from Case-Mate has been highly acclaimed and users love it. These cases are extremely thin, beautifully designed and include a free screen protector. The Barely There case for Droid 2 covers the back and corners of the Motorola Droid 2 and has a flexible plastic shell. The Barely There cases for the Droid 2 are coming soon and hopefully they'd be as good as the earlier ones.
Price – $19.99
5. Skinomi TechSkin Carbon Fiber Skin - This case is made from clear thermoplastic urethane film – the same film used to protect military aircrafts and NASA space shuttles and is really tough. It protects your Droid 2 and comes with a scratch proof screen protector. The case feels just fine and fits the phone perfectly.
Price – $19.95
There aren't cases from leading case manufacturers for the Droid 2 available yet, but we are sure that they will be available soon.