By now, you must probably be admiring your shiny new iPad and must be in awe with it. The iPad is neatly designed and protecting it is one heavy task. Dread the day, when you accidentally drop it and it breaks down into pieces. Apple did keep that in mind while designing the iPad and it is quite scratch resistance. For extra protection, you could purchase a $39 Apple case, which is almost rubber like and does not succeed in its task.
We lay down the top 5 iPad cases for you so that you take extra care about your new baby. From the cheapest to the most luxurious, we bring them all down.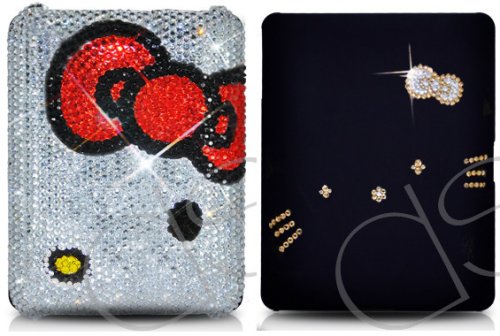 1. Hello Kitty Swarovski iPad Case – When the iPad was launched, people were all over it, people loved to show it off and brag about it. Now, with over 2 Million people owning one, it has become one of the necessities of life. With this case, your iPad becomes even more magical and fashionable. If you can afford it, this would make your revolutionary iPad so precious. However, in this case, the scimitar is costlier than the sword. For $609, you gotta give it a second thought before getting it.
Price – $609
Features – 6/10
Durability – As hard as Diamond
2. iPad Gelli Checkmate Cases – Case Mate – A great case which protects the back side of your iPad. The Gelli is not exactly a fully featured case but instead it adds design to your iPad. It is a transparent skin which needs to be attached to the back of your iPad and gives your iPad a funky design. It is available in three different colors.
Price – $39.99
Features – 7/10
Durability – 9/10
3. iPad NeoFirm Burst Case – iFrogz – Just slide your beloved iPad in this case and it'll be scratch free. It has a Neoprene exterior which feels smooth and is available in 5 different colors.
Price – $29.99
Features – 7/10
Durability – 7/10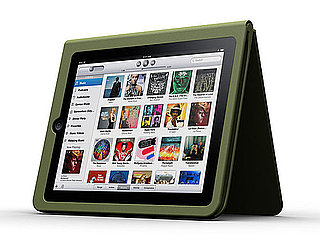 4. Quirky Cloak – A great and probably the best case around. It protects your iPad and even acts as a stand for multimedia purposes. It is constructed from non-slip rubber, with durable plastic on the hinge mechanisms. It can fold into as many shapes as the Apple Case but is steadier.
Price – $42 (Under Development)
Features – 9/10
Durability – 9/10
5. iLuv – iCC2010 – 9.7″ Neoprene Sleeves for iPad – Want your iPad to have pockets? With this case from iLuv, it could have some. It is a beautiful case with exterior pockets which could be the home for your iPhone or headphones. Though, sometimes the products from the pockets tend to fall.
Price – $24.99
Features – 8/10
Durability – 9/10
These were the top 5 cases for Apple's iPad which we believe to be good. If there is any other perfect case which did not make to our list, please let us know in the comments below.