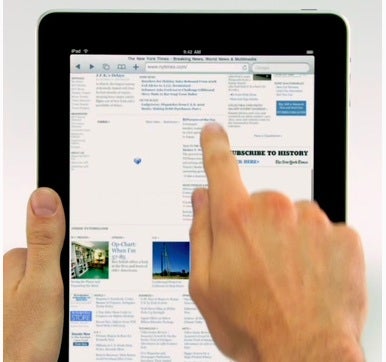 During the iPad demonstration, Steve.P.Jobs visited a few sites where blank squares appeared where video or animated content would normally be displayed. This square indicated a missing plugin. The plugin was Adobe's Flash. The iPad would not display videos, animations or any other content created using Adobe's Flash.
Apple believes that having Flash on the iPhone would make the device slow and buggy. Many new sites have been experimenting with a new video format called HTML 5. HTML 5 is the next level of HTML which is capable of handling video and animation, just as Flash does. HTML 5 works directly in a web browser. It would enhance iPad and iPhone users experience by playing web-based video content.
The HTML5 editors are Ian Hickson of Google, Inc. and David Hyatt of Apple, Inc .
But migrating to a new video format would be tough and troublesome. Flash has a lot of advantages and is the standard multimedia language for a vast majority of developers. Flash's UI is definitely better and involves less manual coding than HTML 5.
After the development of HTML 5 , iPhone and iPad users would hopefully see fewer blue blank squares on their screen.